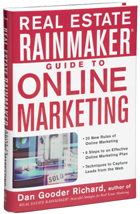 REAL ESTATE RAINMAKER®
Guide to Online Marketing
20 New Rules of Online Marketing
6 Steps to an Effective Online Marketing Plan
Techniques to Capture Leads from the Web
DAN GOODER RICHARD is one of the real estate industry's leading authorities in marketing and lead management. He is the founder and President of Gooder Group, a publisher of real estate marketing materials since 1983, based in Fairfax, Virginia. Gooder Group publishes several monthly real estate newsletters (both printed and online) and a wide selection of marketing tools, including websites, content, automated e-mails, brochures, handbooks, postcards, and more. He is also the author of REAL ESTATE RAINMAKER®: Successful Strategies for Real Estate Marketing. (Wiley 2000).
As a real estate agent or broker:
Would you like to double or triple your income?
Would you like to cut advertising and marketing expenses in half and keep more of what you bring in?
Would you like to get more done in less time?
You can do all this and more by tapping into the power of the "20 New Rules of Online Marketing" to create an effective marketing campaign for your services. Dan Gooder Richard's REAL ESTATE RAINMAKER® GUIDE TO ONLINE MARKETING walks you through the practical steps of building an e-practice brand with Web domains, websites, and e-mail drip marketing systems. This practical, proven system uses real-world examples and straightforward guidelines to show real estate professionals how to generate more leads and more sales at the lowest possible cost.

Packed with hands-on tips and simple techniques that work for novices and veterans alike, REAL ESTATE RAINMAKER® GUIDE TO ONLINE MARKETING is an indispensable tool for real estate professionals who want new solutions and proven ways to use the Internet to increase business. By combining the cutting-edge online strategies and time-tested offline marketing techniques in this book, you'll have an effective, profitable marketing strategy up and running in no time.

E-marketing isn't the only way to generate business, it's just an important piece in the whole marketing puzzle. The REAL ESTATE RAINMAKER® GUIDE TO ONLINE MARKETING will show you exactly how to design and implement an e-marketing strategy that will complement your offline marketing plan, improve your brand recognition, and bring in more leads and sales than ever before!